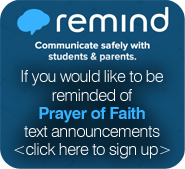 Come Join Us!
Ground Zero Student Ministry meets every Wednesday evening from 7PM-8PM. Our vision is to lead students to develop a relationship with Jesus Christ, and influence the world.
We do this by connecting them to Christ and the church to help them grow in their faith so they can influence others in the world.
This is supported by our four pillars, Love, Communication, Respect and Grace.
We have activities available before and after service like basketball, volleyball, foosball, and pool.
For more information, e-mail us.

---
Prayer of Faith | 5801 South Anderson Road | Oklahoma City, Oklahoma 73150 | (405) 739-0458